During my absence from the world of fragrance, a few shifts took place that I wasn't fully aware of until recently. First, more attention was bestowed upon the niche sector of the industry, exposing some genuine masterpieces, and more than a few pretenders in the bunch. Second, bottle prices have skyrocketed over the past decade. Just yesterday, I was perusing Creed's much anticipated feminine version of its masculine Aventus scent, only to see that a 75 mL (2.5 fluid ounce) bottle is priced at a whopping $405. I almost fell out of my chair. I was enamored of quite a few Creed scents years ago, but now, sadly, they are out of my current rage of affordability. Even scents sold in mid-level department stores, as well as in Sephora and Ulta, are rarely under $100. Despite this, my penchant for buying full bottles has endured; You can't really blame me for wanting to replace what was taken from me, can you?
The third shift can be found in a fairly new category of scents some have dubbed "Angel spawns", a reference to Thierry Mugler's Angel, which has become a modern-day classic, despite its polarizing presence in the world of scent. Angel is one of those fragrances you either love or hate; there is no in-between. Its presence has endured long after we buried the elevator scents of the 80s, like Giorgio Beverly Hills, and Calvin Klein's Obsession. It even inspired niche perfume superstar, Andy Tauer, to create his own version, dubbed Fruitchouli Flash, an homage to the category of fragrances that contain notes of syrupy fruits and caramel, and are anchored by clouds of often smothering patchouli.
On the mainstream side of that trend, Lancôme's La Vie est Belle is said to have inspired a trend that has given Angel "Botox and a blow-out", according to some in the fragrance-reviewing community. I mentioned a few weeks ago that I adore La Vie est Belle, which is shocking, since it is a scent I would have run at top speed from in a former life. Now, its candied iris, gourmand notes, and (gasp!) patchouli, are balm to my soul after it endured the chemical torture of chemotherapy. I am concrete proof that as you go through life, you become capable of embracing that which once repelled you. Don't ask me to explain – I'm content to simply embrace the mystery.
Now, we come to Valentino Donna, which is another amalgam of iris that has been sweetened up and blended with patchouli, musk and leather.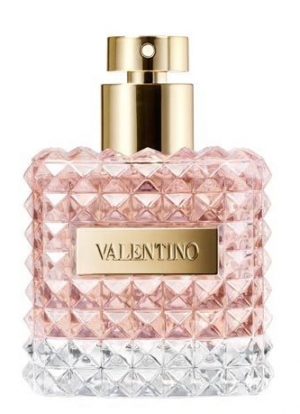 Ironically, Valentino Donna is considered a spawn not of Angel, but of La Vie est Belle. Apparently, Lancôme's success has inspired other fragrance houses to jump aboard the iris train to test its mettle. So, we seem to now have grandchildren of Angel infiltrating our fragrant midst, clamoring for the attention of customers who were too young, or not yet born when Angel landed on retail shelves in 1992.
What do I think? I like it. The patchouli is not as in-your-face as it is in La Vie est Belle, and overall, the scent stays very close to my skin – a sueded iris-y musk that I find quite pleasant. If you watch the film in the link above, it depicts a more Italian sensibility, with the model strolling through a deserted Piazza Navona in Rome (in heels on the cobblestones no less), rather than the glitzy party vibe we see Julia Roberts enjoying in Lancôme's short film. Don't get me wrong, neither scent is transcendent, but I can afford them, and wearing them pleases me a great deal. Moreover, Donna elicited a strong, positive reaction from my boyfriend, which is an added bonus. I've always prided myself on wearing what pleases me without any intention of seeking compliments from others, but that made me happy.
Some Housekeeping: Thanks ever so much to Robin, and the writers at NST Perfume for their words on the scents I spoke of here. I have been a reader of the blog since its creation.
Please follow and like us: